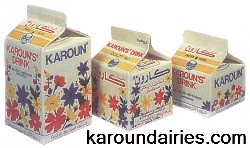 The authentic yogurt drink


The Original
DIET YOGURT DRINK


WITH GARLIC

Karoun Dairies Co.
would like to hear
from YOU!
CONTACT US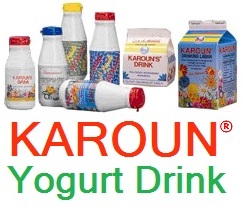 Lassi Yoghurt Drink Tahn Ayran Doogh
ALL NATURAL AUTHENTIC YOGURT DRINK
Now available in the US under TANN brand
distributed by our licensee Karlacti, Inc.
Authentic yogurt drink Ayran or drinking laban is an ethnic healthy refreshment of Armenian origin.

Mediterranean Yogurt drink is also called Sharab Laban, Laban Drink, Shanineh, Dough and Lassi by people of different ethnic origin.

A popular drink from the Mediterranean region to India, especially in the Middle East, Armenian yogurt drink is the healthy refreshment to beat the heat.

Lassi yogurt drink was initially produced by mixing an equal quantity of yogurt and water, adding salt to taste.

KAROUN DAIRIES Mediterranean authentic yogurt drink is a healthy and refreshing drink especially in the hot season when drinking yogurt replenishes the sodium level in the body after heavy sweating

Karoun's Mediterranean authentic yogurt drink is particularly delicious when you drink ayran with your preferred sandwich, snack or Mankoushe, the famous Middle Eastern Lebanese thyme and olive oil pita bread, and especially with lahmajun Armenian pizza.

KAROUN'S Mediterranean yogurt drink, all natural lassi drinking laban ayran, authentic yogurt drink is produced by the method invented some 60 years ago by Ohannes Baghdassarian, founder of Laiterie KAROUN precursor of KAROUN DAIRIES.



Healthy and natural, Karoun Mediterranean authentic yogurt drink has all the advantages of yogurt:
Lassi yogurt drink contains large numbers of live and active cultures
Yoghurt drink is very low in calories and cholesterol
Lassi yoghurt drink suits well to lactose intolerant people
Drink Karoun Mediterranean natural ayran with active cultures for a healthy diet!

IT IS THE PLAIN YOGURT YOU CAN EAT WITH A STRAW!
KAROUN'S all natural authentic Mediterranean yogurt drink is not UHT, it is not heat treated after incubation to keep intact the abundant microorganisms in yogurt, the good bacteria in yogurt beneficial to your health.
It is a fresh , live Mediterranean yogurt drink essential for a healthy diet.
Karoun Mediterranean yogurt drink does not contain stabilizers or any other chemical additive.

Ingredients: Pure water, Cows' milk, Salt, Live active cultures.
Shelf life: 21 days refrigerated at 4oC.
Available in 250 ml. 300 ml. 500 ml. Gable top cartons and plastic containers.

Karoun Dairies Mediterranean yogurt drink Brand names: KAROUN, AYRANI and Skimmed for Diet.

WARNING! "ARZ Yogurt Drink" is not KAROUN'S authentic yogurt drink

All Karoun family products sponsored and controlled by Karoun Dairies SAL are always stamped with

quality sign since 1931.